We are the leading manufacturer of truly chemical free and non toxic mattresses - organic memory foam, natural latex, organic crib mattresses, waterbeds, pillows, foam pads, and more. With the new flameproof mattress regulation all mattresses now contain toxic chemicals. With no labeling requirements, all mattresses deny using chemicals and green wash it. You can see proof here. However, we do offer you truly non toxic and chemical free solutions:
There are four ways to avoid the flameproof mattress regulation and get a toxin free bed:
You can order any of our mattresses and our government mandated flame retardant chemical based flame barrier is zippered and removable to access the layer system.

You can order any of our mattresses without the flame barrier with a prescription from an MD, DO, or Chiropractor.

Our waterbeds are naturally toxin free and flame resistant. They are exempt from the regulation and contain no toxic chemicals.

You can build your own bed by ordering our foam layer pads, and cover with your own or our mattress pad/cover. (This option often saves money)
Antimony Trioxide (Arsenic), Boric Acid (Roach Killer), Silicon (Silica Glass), Melamine, Formaldehyde, Decabromodiphenyl Oxide, and Ammonium Polyphosphate are the main chemicals being used by mattress manufacturers to meet federal flammability standards.
The new flameproof mattress regulation requires all mattresses now withstand a severe open flame test. This requires known acutely toxic and cancer causing chemicals in or next to the surface of all mattresses. It is proven we will absorb these chemicals every night.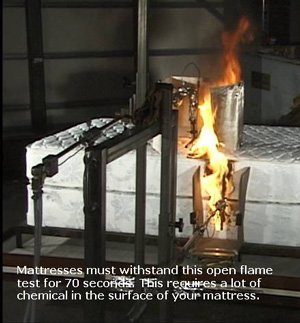 There are no labeling requirements for these chemicals. Many major mattress manufacturers have admitted to news media they are required to use, and do use these chemicals in their mattresses. (See these news stories and videos at the "Making News" link.) But then these same and almost all mattress manufactures deny using chemicals to their customers, even ones who have gotten sick.
Organic mattresses often claim to use wool to pass the open flame test. Wool burns at 600 degrees and the open flame test is 2,000 degrees for over a minute. It is scientifically impossible for untreated wool to pass this test. Since there are no labeling requirements for these chemicals even the wool and other fire barrier suppliers often tell mattress manufacturers their systems contain no chemicals. Unfortunately, many mattress manufactures and consumers want to believe this. (See the link "Wool Burns" for more proof.)
Antimony (a heavy metal almost identical to Arsenic), Boric Acid (yes, the Roach Killer), Silicon (Silica Glass, a known respiratory hazard and carcinogen), Melamine, Formaldehyde, Decabromodiphenyl Oxide, and Ammonium Polyphosphate are the main chemicals being used by mattress manufacturers to meet the new state and federal flammability standards.
The government has proven these chemicals leach to the surface of our mattresses and are absorbed by our bodies. They have proven we will absorb .8 mg of Antimony, and .08 mg of Boric Acid every day. We know Antimony accumulates in our bodies, is acutely toxic, and also causes cancer.
Many doctors say this is not safe. Many people do not want to absorb poisons nightly to avoid a one in 1.111 million mattress fire risk. Many people have already gotten sick. Dr. Lawrence A. Plumlee, MD, says: "How many are intolerant who don't know why they can't sleep or feel bad?"
There are now no mattresses that are free of toxic chemicals.
But, we do offer you solutions that are truly toxin-free.
NonToxicBeds has manufactured mattresses for over 40 years under various labels for customers worldwide.
We strongly oppose the new national flameproof mattress regulation because the risk outweighs the benefit. We think it is a very serious health risk. Many doctors agree. Sleepers and workers are already getting sick. These should be strong warning signs for the rest of us. Workers complained early on of Asbestos health effects, but no one listened. It took 40 years and hundreds of thousands of deaths to prove Asbestos harmful. A relatively small percentage of our population was exposed to Asbestos, but everyone sleeps on a mattress. We continue to make toxic mistakes. We ban one flame retardant chemical after another, after we find human harm. What will we learn in the next 40 years? How many millions of Americans will die slow painful deaths from the long term effects of poison mattresses?
We offer this website to provide low manufacturer direct pricing and great values so more people can afford truly nontoxic mattresses.
We hope you will help get the word out on the truth about the toxic chemicals now being added to mattresses. Although the issue had made some news it is not enough. Almost all mattress manufactures including Sealy, Tempurpedic, Casper Mattress, Serta, Simmons, Spring Air, Kingsdown, Tuft and Needle, or any other brand, and retailers continue to tell people there are no chemicals in mattresses, there are no labeling requirements. So most people still don't know or find it hard to believe it could be that bad. But it is very bad.
You can help get the word out and earn some extra money for your nonprofit organization or yourself, perhaps a lot.

Join our Affiliate Program. It is quick and easy to sign up on our website. Your are instantly and automatically approved. Take the special link and put it on your website and/or email it to everyone you know. You can earn a substantial amount of money for yourself or your organization from every sale generated from your link to our website. It is all tracked automatically. You can get email notifications and track your money earned at our site. Then you get a check every month, and it could add up to a lot over time. You can also feel good knowing you are helping to protect peoples health, and potentially saving lives.